TEEN FORMULA
Available in 60 V-Caps
FINALLY, A FORMULA FOR YOUR TEEN'S MENTAL WELL-BEING
Made with safe, proven ingredients, Veeva TEEN is the first and only product licensed by Health Canada for the relief of nervousness and agitation due to mental stress in teens – all without any scary side effects.
​
Relieves nervousness and agitation/restlessness

Used as a sleep aid during times of mental stress

Promotes healthy bones, skin, hair and nails

Supports immune function

Maintains proper muscle function and tissue formation​
RECOMMENDED USE AND DOSE
---
Recommended use: Helps relieve nervousness and agitation/restlessness due to mental stress. Used as a sleep aid during times of mental stress. Helps to maintain healthy bones, hair, nail and/or skin and in connective tissue formation. Helps in energy metabolism, bone development, proper muscle function and in maintaining/supporting immune function. Contributes to maintaining general health. ​ Recommended dose (adolescents 13 years or older and adults): Take 1 capsule, twice daily, with food, a few hours before or after taking other medications or natural health products. Cautions: Consult a health care practitioner prior to use if you are pregnant or breastfeeding or if symptoms persist or worsen. Consumption with alcohol, other medications or natural health products with sedative properties is not recommended. Stop use if hypersensitivity/allergy occurs. Some people may experience drowsiness. Exercise caution if operating heavy machinery, driving a motor vehicle or involved in activities requiring mental alertness.
---
HOW IT WORKS
---
While herbal ingredients cover mental well-being, minerals and vitamins provide additional support to help teens feel their best both mentally and physically.
---
FORMULATION
---
Each vegetable source capsule contains: ​ Linden 187.5 mg (Tilia cordata) flower, 4:1 extract (750 mg*) Passionflower 50 mg (Passiflora incarnata) herb top, 4:1 extract (200 mg*) ​ Lemon balm 40 mg (Melissa officinalis) herb top, 5:1 extract (200 mg*) ​ Magnesium 50 mg From 250 mg of Magnesium Bisglycinate Chelate Zinc 5 mg From 25 mg of Zinc monomethionine Vitamin D3 12.5 mcg (500 IU) Cholecalciferol ​ Vitamin B6 25 mg Pyridoxal-5-phosphate (P-5-P) ​ Vitamin B12 500 mcg Methylcobalamin ​ Non-medicinal ingredients: Organic brown rice extract (organic rice bran, organic gum arabic, organic sunflower oil), brown rice flour, hypromellose (vegetable capsule).
---
VIDEO
---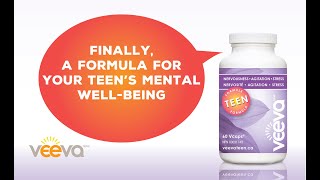 ---
---